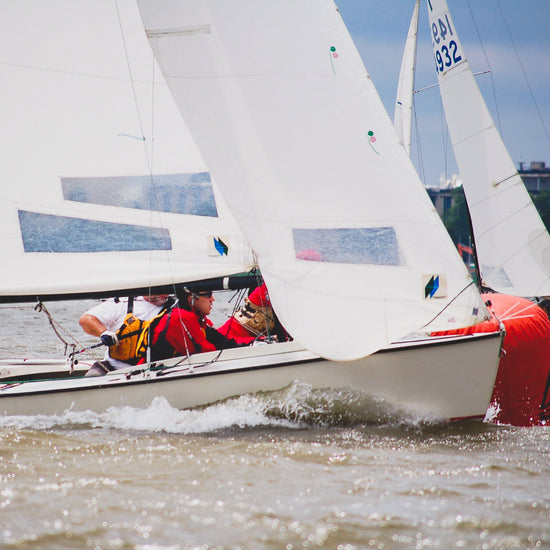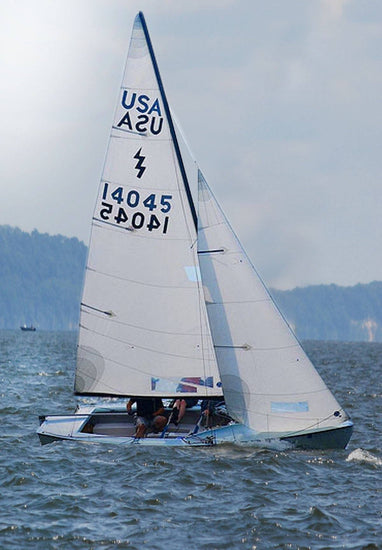 Lightning Details
The International Lightning Class is a 1938 Sparkman and Stephens design. This active racing class has grown to nearly 15,000 boats. The quality, performance and speed of the Nickels Lightnings are proving themselves for hundreds of current owners including North American and World Championship skippers. Why not join them with the confidence that you are buying the best there is?

The Nickels Lighting features a new hull and deck. The hull design maximizes down wind speed while preserving upwind performance, while the new rolled deck affords greater comfort when hiking in addition to our optimization of control line location. The new deck also provides for increased interior room for crew and skipper. We have also included a new location for fine tuning of the backstay. This new deck is stiffer insuring durability and strength.
Fully rigged w/ stainless steel centerboard: $24,995
A new Nickels custom race equipped Lightning includes:
Lightning Class Number—royalty and measurement certificate (from the class)

One color hull—one color deck New style rubrail white or black

Harken Equipment— Carbo blocks now standard

Mainsheet swivel with hexaratchet Jib sheet—Custom NBW jib car

Spinnaker guy and sheet Ratchamatic Jib uphaul—6 to 1

Twing lines with guy hooks Jib cloth—2 to 1

All block Boomvang 22 to 1 Backstay—8 to 1

NBW mast all lines internal Cunningham—4 to 1

Mainsheet bridle—Winward sheeting type, pull down

Centerboard hoist—10 to 1

Dual side controls—for backstay, mainsheet bridle, boomvang & cunningham with color coded lines.

360 degree swivel cleat—on centerboard hoist 2 Hinged transom bailers

3 padded hiking straps (your choice of color)

Compass

Large storage compartments in both cross seats

Lifting bridle

Nickels aluminum mast, boom, spinnaker pole and tiller with extension

F.O.B.
Color Options:
White is standard but for modest charge we customize for your color and striping
Rigging Options:
There are numerous options. Give us your specifications and we will customize a price proposal for you.
Sails:
Sails by North, Quantum and Vermont Sailing Partners. Current prices less 10% with new
boat purchase.

Covers are available from all manufacturers on request.
Also Available:
Trailer - $1895
Spare Tire - $90.00
Aft Kick Stand - $35.50 (installed)
Spare Tire Bracket - $37.50 (installed)
4 Stanchions - $449.00