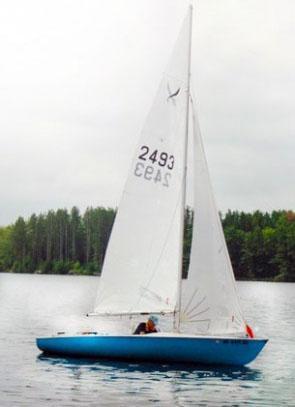 Nickels Buccaneer 18
Why Choose a Buccaneer 18?
For the day cruiser:
Open interior offers plenty of room for a group

Comfort – a sit-in rather than a sit-on boat

Lightweight design makes for easy transport and launching

Easily handled by anywhere from 1 to 6 people

Safe—positive floatation and sealed air tanks
For the racer:
Can handle a wide range of conditions

Simple set-up with up-to-date Harken rigging

A fun and competitive class associations in one-design sailing
Features:
Vinylester resin is used producing a stronger, faster, longer lasting

boat

Easy mast set-up and take-down

Symmetrical waterline, eliminates weather helm caused by heeling

Harken Carbo blocks and Racelite hardware

Custom colors available

Trailers built specifically to support the Buccaneer 18 are available
Designed in 1966 by Rod Macalpine-Downie and Dick Gibbs, the Buccaneer 18 incorporates classic elements that have made this racing dinghy a consistent performer for more than 35 years. With its performance hull design, the Buccaneer easily gets up onto an exhilarating plane in 8-10 knots of breeze. An integrated spinnaker launch tube, roller furling jib, and well-constructed sail plan make it the ideal two-handed racing dinghy. Beautifully balanced and easily handled, the Buccaneer continues to appeal to both seasoned competitors and new sailors.
Weighing in at only 500 pounds, the Buccaneer can easily be transported and launched from a trailer or winch. A comfortable cockpit arrangement and simple rigging, round out the Buccaneer's design, making it a great day sailor for the entire family.
Nickels Boat Works has completely reworked the Buccaneer 18 deck and interior mold. "Beautiful—Fantastic" are hardly adequate to describe this year's Buccaneer 18. The
interior floor has also been changed to ensure greater footing and the non-skid deck
provides added safety when working in those areas.
Pricing – Standard Race-Rigged Buccaneer 18: $15,995
The 2016 Nickels Buccaneer 18 includes:
Roller furling Spinnaker pole with on boom storage

Boomvang 8 to 1 Cunningham

Spinnaker guy and sheet with Harken Carbo Ratchamatic blocks

Nickel's fully rigged mast with all internal halyards and topping lift

Stainless steel stand rigging with Stay-master turnbuckles standard

Nickels Centerboard and Rudder built to last with unidirectional fiberglass

Nickels custom jib cars with Harken Carbo Ratchamatic blocks

Harken Carbo hardware standard

Add your sails and this boat is ready to sail 'Right out of the box'
Sail Options
Sails and covers available from all manufactures: North, Vermont Sailing Partners, Benson, Quantum, Schurr, Mack, The Sailor's Tailor. Sail prices are discounted 10% with new boat purchase.
Color Options:
White is standard, but custom colors available at a modest charge
What customers say
"The Nickels Buccaneer 18 is worth every penny I paid for it. These boats are built to last and built to perfection. Please get a new Nickels Bucc, you will not be disappointed."
– John Hammerslough, Richmond, VT