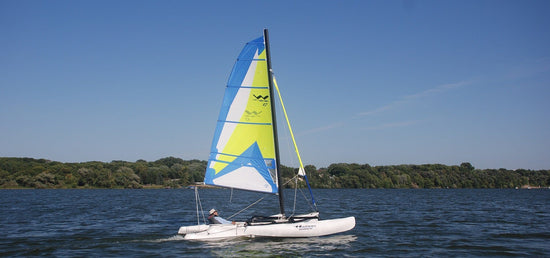 WR17 Trimaran Sailboat
The premier WindRider Trimaran is the most fun you'll have on the water.
Down by the bay or out on the ocean, a WindRider 17 is your first-class ticket to fast and easy sailing. Enthusiasts of all ages and capabilities can rig and launch it. The mast weighs just 35 lbs for easy lifting, or can be raised with our exclusive pulley system (purchased separately). No more excuses… just get everyone together and get out there!
Stable, comfortable ride holds up to 2 people in the cockpit and up to 3 on the trampolines
Convenient storage anywhere: outside, moored, or on a beach or a trailer
Nearly impossible to capsize
Purchase includes everything you need to sail:
Seats and cushions
Rotating mast and main sail
Roller furling jib sail
Built-in, hand-operated bilge pump
2 trampolines (one for each side of the main hull)
All necessary rigging
Hardware and control lines
The WindRider 17 gives you these standard WindRider features:
Sporty styling that turns heads
Hands-free, foot pedal steering
Near-indestructibility
Nearly impossible to capsize
The most common accessories purchased with the WindRider 17 Trimaran are the trailer and motor mount. Additional recommended options include the reacher kit, windshield, mid-boom sheeting, center foot steering, lazy jack, and center-hand steering.